Description
The automatic control system for the brewhouses Breworx Classic, Lite-ME, Tritank
The BHAC2 is automatic control system for brewhouse with computer support and most operations controlled automatically – according to a specified program from a central control panel.
This control system cooperates with our brewhouses Breworx Classic, Breworx Lite-ME and Breworx Tritank with usable volumes from 1200 to 5000 liters.
BHAC2 automatic control system for the brewery includes:
Automatically controlled hot process of brewing – fully automatized management of the entire processes of production beer wort
Automatic system for time-control of temperatures in fermentation and maturation process
Automatic system for control of media
The control system may work in two modes :
Fully manual control
Semi-automatic control
The operator can freely switch between the two modes.
Control of operations and processes when the automatic control system is choosed :
| | |
| --- | --- |
| Automatic processes | Manual processes |
| Filling the mashing tank and filtering tank with water | Grinding the malt |
| Heating cycles | Malt dosing |
| Pauses for saccharization | |
| Mashing | |
| Filtering | |
| Hops brewing + hops dosing (the hop granulat must be ready in the hops dosers before the process) | |
| Swirling the wort | |
| Wort cooling and aeration | |
| Throwing out of malt residues from the filtering tank | |
| Rinsing and sanitation of the brewhouse | |
Why choose AC system for brewing control ? Main reasons are :
Elimination of human errors – machine accurately and timely perform necessary tasks
Costs saving for owner – only one worker is necessary for manipulating in the brewery
Minimize the number of error conditions in the brewery – everything is still under control
Monitoring and registration of the production process into the computer memory
Minimization of requirements for constant operator attention – early reaction of machine
Stable quality of beer – standard manufacturing procedures are always observed
Six pre-programmed recipes – for production of the most known types of beer : Pils, Lager, Black, Weissenbeer, Ale, Special
Manual brewing mode – for production of all other types of beer
Special sanitation mode – for automatic cleaning,sanitizing and sterilization of the brewhouse, wort pipes, armatures and other brewery equipment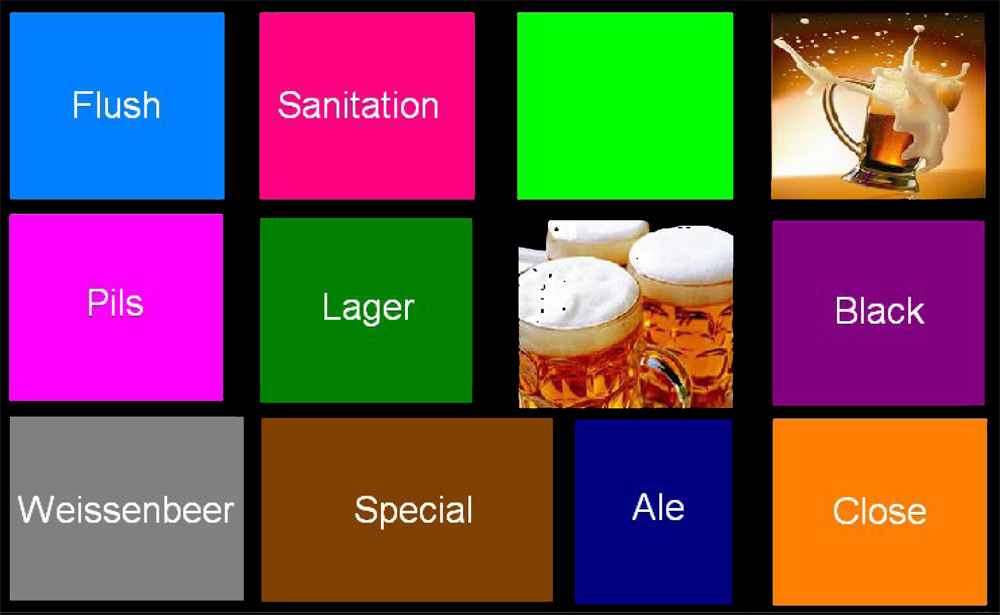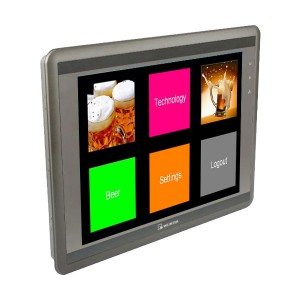 Description:
The control unit is developed on PC platform with an operating system and control programme.
In the price of the automatization of two-vessel boiling equipment is contained a complete assembly of hardware included the pneu-actuator and the installation elements of the boiling equipment. The automatization also contains the opration system including the licence and beer-brewing software.
The software enables to change the receptures directly via the control panel or by installation via USB port. Software and boiling equipment are both designed to brew all of the world beers in decoction way and in infusion way as well. Also at decoction way, it is possible to brew on one or two mashes.
Process sequence as times, speed of pumps, individual volumes of water refilling or the overflow volumes, temperatures and flow rate of each media can operator set himself after entering the user password on the third level.
Automatically controlled brewhouse with controlling the most of brew operations by computer – according to a specified program from a central control panel ( touch screen ) . Brewer selects a recipe and start a program that controls the production process. Brewer checks the progress of procedures and performs laboratory tests , treats non-standard conditions and ensure the preparation of raw materials for the beer production process .
Manual operations before start of brewing :
Milling of malt (grinding)
Yielding of malt (mashing)
Automatical operations :
Heatings (precise temperature control according to selected recipe)
Decoction or infusion brew proceeding incl. all pumpings
Filtering (Lautering)
Boiling with hop + dosing of hop (adding of hop in a case before brewing)
Whirpooling (separation of wort from hops)
Cooling of young beer + saturation with air
Throwing of draff from wort filtration tank
Sanitisation of brewhouse and wort pipes (CIP process)
The control programme operates in czech, russian and english language.
Hardware
Computer Weintek MT6100i
Quality colour TFT screen, diagonal 10 inches, resolution 800×480 pixel, high brightness 300 cd/m2, long service life
Front panel with high protection IP65
3x COM: RS232
1x USB 2.0, 1x USB 1.1
CPU and core logic: 32 Bit RISC 400 Mhz procesor
DRAM: 64MB DDR2
Power: 11 to 32 V DC, maximal 1.5A in 24V DC, including AC adapter 100 to 240 V AC / 12 V DC
3x COM: RS232
1x USB 1.1 Host
1x USB 2.0
EMC: Certificated CE/FCC Class A
LCD panel
TFT LCD with resolutin 800 x 480 pixels and 65 536 colours
Brightness 300 cd/m2
Viewing angle: 130° horizontally
Backlights: LED
Touch foil: analog resistive position sensing with a resolution of 800 x 480 pixels, clearness better than 80%. Lifetime of at least a million touches in one place
Dimensions
width 271 mm, height 212 mm, depth 50 mm
weight 1,4 kg
Operating limits
Working temperature: 0 – 45°C
Storage temperature: -20 – 60°C
Humidity: 10 – 90% st 40°C noncondensing
Vibration: 10 – 25 Hz, max. Overload 2 G
Operating unit PLC- Mitsubishi FX3U
FX3U is the most powerful processor from the FX family. This series combines the advantages of a compact with the flexibility of a modular control system, and is also one of the fastest systems with a cycle time of only 0.065 microseconds / logical instructions.
Armatures
Pnematic valves for distribution system of the boiling equipment
Valve ZA 24-EE55 / ZA 26-EE63 / ZA 23-EE55
Thread size ¾" (DN20)
Sealing PTFE
Min. temperature – 30°C
Max. temperature 180°C
Min and Max pressure 0 – 16 bar
Min and Max operating pressure 6 – 8 bar
Weight: 2 ,355kg
Valve is made form stainless steel grade 1.4408
Pneumatic valves for a spinal system of the boiling equipment
The valves are equipped with pneumatic actuators.
The indisputable advantage of AWH valves are a bearing housing, which minize the wear of axles, so the valves are very durable.
The shipment contains also all the approval and test certificates of used material such as EHEDG, ATEX, APZ 3.1 according to DIN EN 10204, FDA and regulation ES 1935/2004
FESTO valve terminal VTUG plug-in
Flow-rate 120 – 630 l/min
Width 10, 14 mm
Connections M5, M7, G 1/8
Push-in connections 3, 4, 6 ,8 mm
Multi-pole connections, industrial networks, IO-Link, I-Port
Power 24 V DC
Prssure – 0,9 … 10 bar
Degree of protection IP40 / IP67
Metal connector plate
Variants:
– valves on connector plate with output on the valve body
– valves on connector plate