Description
The automatic control system for the OPPIDUM wort production machines
The BHAC-6 is an automatic control system for the OPPIDUM wort preparation machines with computer support and most operations controlled automatically – according to a specified program from a central control panel.
This control system cooperates with OPPIDUM machines with usable production volumes from 1000 up to 6000 liters of wort per one batch.
BHAC3 automatic control system for the brewery includes:
Automatically controlled hot process of brewing – fully automatized management of the entire processes of production wort
Automatic system for time-control of temperatures in fermentation and maturation process
Automatic system for control of media
The control system may work in two modes :
Fully manual control
Semi-automatic control
The operator can freely switch between the two modes.
Control of operations and processes when the automatic control system is choosed :
| | |
| --- | --- |
| Automatic processes | Manual processes |
| Filling the mashing tank and filtering tank with water | Grinding the malt |
| Heating cycles | Malt dosing |
| Pauses for saccharization | |
| Mashing | |
| Filtering | |
| Hops brewing + hops dosing (the hop granulat must be ready in the hops dosers before the process) | |
| Swirling the wort | |
| Wort cooling and aeration | |
| Throwing out of malt residues from the filtering tank | |
| Rinsing and sanitation of the brewhouse | |
Control panel :
How looks the automatic control panel ? This is a main menu. Choose one from several beer types or other functions, fill stackes by all required raw materials, then click and let the computer to brew your beer :

Special functions :
CIP function – the special mode ensures cleaning, sanitization and sterilization of the brewhouse, wort pipes and optionally also other devices in the brewery
---
Why only the automatic control system for this wort brew machine is available ?
The OPPIDUM machine produces several batches of wort at the same time. This is extremelly demanding of attention, concentration and speed of brewer work as well as rapid and concurrent monitoring and evaluation of rapidly changing data from many sensors . Only sophistical system with a computer and many electronic sensors of the automatic control system are able to provide the properly timing of all brewing phases, the right temperatures in the right time, the right speed of pumps and motors, without damage of wort, it all controlled continuously during up to six paralelly worked production processes.
There are also other good reasons why use the automatic control system :
Elimination of human errors – machine accurately and timely perform necessary tasks
Costs saving for owner – only one worker is necessary for manipulating in the brewery
Minimization the number of error conditions in the brewery – everything is still under control of the computer
Monitoring and registration– all statuses and operations of the wort production process are stored in the computer memory
Minimization of requirements – this system does not require extremelly attention of human operator – There is always ensured an early reaction of machine
Stable quality of beer – standard manufacturing procedures are always observed in order to ensure always the same maximum possible quality of beer
Six pre-programmed recipes – for production of the most known types of beer : Pils, Lager, Black, Weissenbeer, Ale, Special
Manual brewing mode – for production of all other different types of beer that pre-programed system does not know
Special sanitation mode – for automatic cleaning, sanitizing and sterilization of all tanks, pipes, armatures and other brewery equipment
---
Technical specification and functions

The control unit is developed on PC platform with an operating system and control programme.
In the price of the automatization of the boiling equipment is contained a complete assembly of hardware included the pneumatic actuators and the installation elements of the boiling equipment. The automatization also contains the operation system including the licence and software for an automatic production of wort using this machine.
The software enables to change the recipes for brewing more different kinds of beer directly via the control panel or by installation via USB port. Software and boiling equipment are both designed to brew all of the world known beers in decoction way or in infusion way as well. Also at decoction way, it is possible to brew on one or two mashing cycles.
Process sequences as times, speed of pumps, timing of all phases, temperature measuring and control etc.
Individual volumes of water refilling or the overflow volumes, temperatures and flow rate of each media can operator set himself after entering the user password on the third level.
Automatic control of the wort production machine with controlling the most of steps and operations by computer – according to a specified program from a central control panel ( touch screen ) . An human operator selects a recipe and starts a program that controls all production processes. The operator checks the progress of all procedures and performs laboratory tests , solves non-standard conditions and ensure the preparation of raw materials for the wort production process .
Manual operations before start of brewing :
Preparation of malt using a mill machine (milled malt grist)
Mixing of malt – sprinkling malt grist into warm water (mashing proces)
Automatical operations :
Heating of tanks and timing (precise temperature gradients and time control all phases according to selected recipe)
Decoction or infusion brew process including control of all pumps
Filtering of wort (Lautering wort process)
Boiling of wort with hops + dosing of hops (automatic adding of hops into wort during boiling)
Whirpooling (separation of wort from hops using a centrifugal rotation)
Cooling of young beer and saturation of wort with air
Throwing out of rests malt from the filtration tank
Sanitisation of all pipes (CIP process)
The control programme operates in Czech, Russian and English language. We can customize the program also for other languages.
---
Hardware and software description
Automatized beer brewing process is custom-built to exactly match the requirements of a particular type of boiling equipment and also the user´s requirements.
Automatic includes the following items:
---
1st Hardware
Pneumatic valves and flaps including the actuators
Flowmeter with digital output
PLC control systém
Touch panel for operator control
instalation and connection of the automation components.
---
2nd Software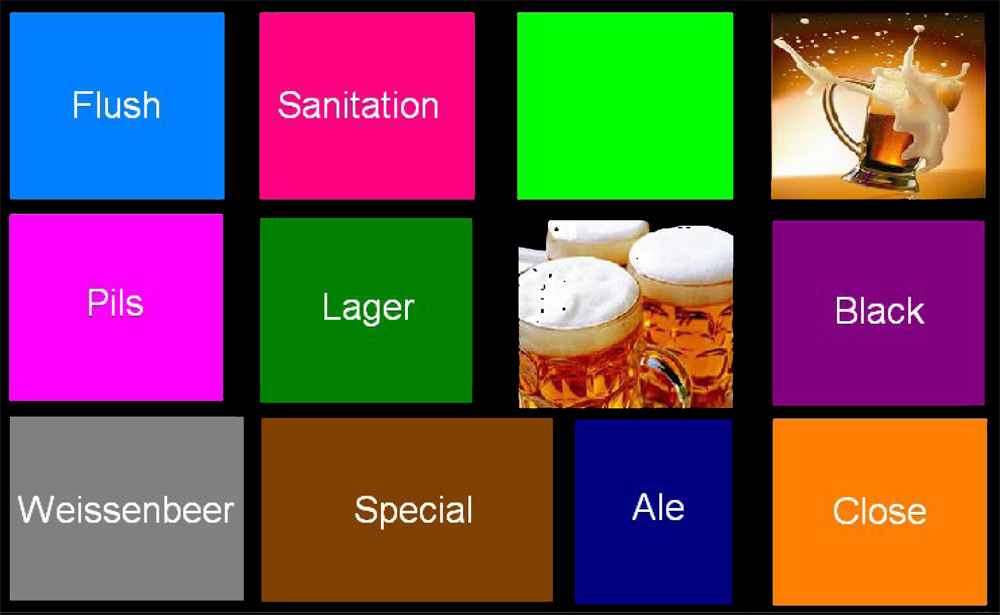 Original operation system
Support for setting custom lengths and work sequences
Preprogrammed recipies for several beer types
10° light beer (Czech light lager beer)
11° dark beer (Czech black lager beer)
12° light beer (Traditional Czech lager type Pilsen)
13° weissenbeer (Beer made of wheat malt)
14° special beer (Stronger lager beer)
---
Hardware description :
Automatic control system
– 1pc PLC Tecomat Foxtrot CP 10006 13x AI/DI, 10x RO, 2x AO, 2x SSR, SD/MMC slot, Ethernet, WebServer
– 1pc IB 1301 12x DI 24V DC (4 x DI High Speed)
– 5pc IR 1401 12x DO 24V DC (transistor outputs 0,5A)
Display and communication system of automatization
– 3 pc display operation panels Weintek CMT-IV5
screen resolution 1024×768
screen diagonal 9,7" capacit TFT
brightness 350 cd/m²
500:1 contratst ration
support for multi-touch
1 Ghz RISC Cortex A9 processor
512 MB Flash, 1GB RAM
Ethernet communication port
24 VDC power supply
Degree of protection IP65
external dimensions 257,2×199,7×32,7mm (LxWxH)
weight 760g
working temperature 0 ~ +50°C
–
1 pc vizualization server Weintek SMT – SVR
ARTEX A8 RISC processor
256 MB flash memory, 256 MB RAM
inputs/outputs – USB2.0- Serial port- SD card- Ethernet
24 VDC power supply
Degree of protection IP65
External dimensions 130x115x24mm (LxWxH)
Weight 180g
Working temperatre -20 ~ +55°C
---
Pneumatic valves
– screw-thread size
G 1/2" (DN15)
G3/4" (DN20)
G 1 1/4" (DN32)
–
PTFE seal
– working temperature -30 ~ +180°C
– min. and max. pressure 0 ~ 16 bar
– min. and max. working pressure 6 ~ 8 bar
– weight and dimensions are variable depending the type of the valve/flap
– material – body – stainless steel no. 1.4408
– pneumatic actuator – aluminum body
– 14 pcs of pneumatic valves
Pneumatic flaps
– screw-thread size 2" – brightness flaps DN50
– sealing VMQ – Silicon
– max. working temperature 100°C
– steam sanitation max. temperature 130°C
– working pressure max. 10 bar
– valve and actuator are made of stainless steel 1.4301
– 24 pcs of pneumatic flaps
---
Electromagnetic valves
Water
– screw-thread size – G 1/2" (DN15)
– G 3/4" (DN20)
– max. pressure 16 bar
– ambient temperature -20 ~ +65°C
– temperature of medium -20 ~ +120
– material: stainless steel AISI304
Steam
– screw-thread size G 1/2" (DN15)
– max. pressure 25 bar
– ambient temperature -20 ~ +65°C
– temperature of medium +5 ~ +185°C
– material: stainless steel AISI304
In Oppidum brewhouses are 16 pcs of water and steam electro-magnetic valves
Electrical installation is carried out according to standard ČSN EN 60204-1, the degree of protection IP 65
Software and description of available program modes
Available operations
– The PLC programe is devided into processes
– The measuring processes are: – temperature measurement – impuls counting of data from the flowmeters ( induction , impulse)
– Another process is responsible on the basis of data received from the operator panel to run different processes according to the selected recipe
– Infusion
– Method of one boiling cycle of malt mash per batch
– Method of two boiling cycles of malt mash per batch
– Other possible processes and brewing methods
– Back-flush of pipes,, pumps and tanks
– Sanitation of all important parts of the machine
Access modes

– For vizualization is used the operator panel with touch panel
– User is able to work in four available modes with different access rights.
User mode
– Allowed only monitor the progress of the brewing process
Extend user mode
– User mode + the possibility of switching valves, motors, pumps and pausing the automatic process
Admin mode
– Extending user rights + the possibility of starting the automatic brewing and changing the procedures parametres
Programming mode
– Full setting of all programm parameters and constants
Manual control mode

– The operator panel is used for remote control of valves, dampers, mixers and pumps
Automatic control mode

– Possibility of setting up the parametres of individuals recipes and starting the automatic process
– Operator panel displays the name of the beer, the type of cooking, monitoring of the actual step either with countdown timer, or with deduction liters or with reached temperature
– On the panel the current statuses of all important elements in each step are visualized – valves, motors, pumps, sensors
– Process is possible to suspend or interrupt everytime by human operator
Extending of possibilities
– Customization of all hardware and software equipment according to individual costumer requests and the available technology