Typical sets of breweries with the practical powerful machine for production wort BREWORX TRITANK. Small breweries BREWORX COMPACT are the craft breweries with simple industrial design that are designed for efficient production of all known kinds beer.
Craft breweries Breworx Classic fully comply with all requirements for craft breweries for small and medium-size restaurants. They are designed for mutual satisfaction of customers and beer producers. Conventional arrangement of the wort brew machine where the most of its parameters are subordinate to luxury historical design, is important for marketing purposes. The wort brew machine is becoming the centrepiece of the restaurant and attracts visitors' attention, which is important for the growth of visit rate of the brewery.
However, from the practical point of view it is more suitable if the wort brew machine consists of three separate vessels, which are easily accessible from the central platform. That is why the functional wort brew machine Tritank is more suitable for breweries where the ergonomics and expedience are main key requirements. In addition the customer is not paying for any purposeless design elements that have no influence on the effectiveness of production process of beer.
Therefore, as an alternative to the classical designed breweries, we offer the breweries BREWORX COMPACT equipped with the wort brew machine BREWORX TRITANK. These breweries are designed to ensure that the production of beer is as most effective as is possible. The owner and provider of the brewery gets the best utility value for reasonable investment to a new brewery.
Scheme of an example configuration of the craft brewery BREWORX COMPACT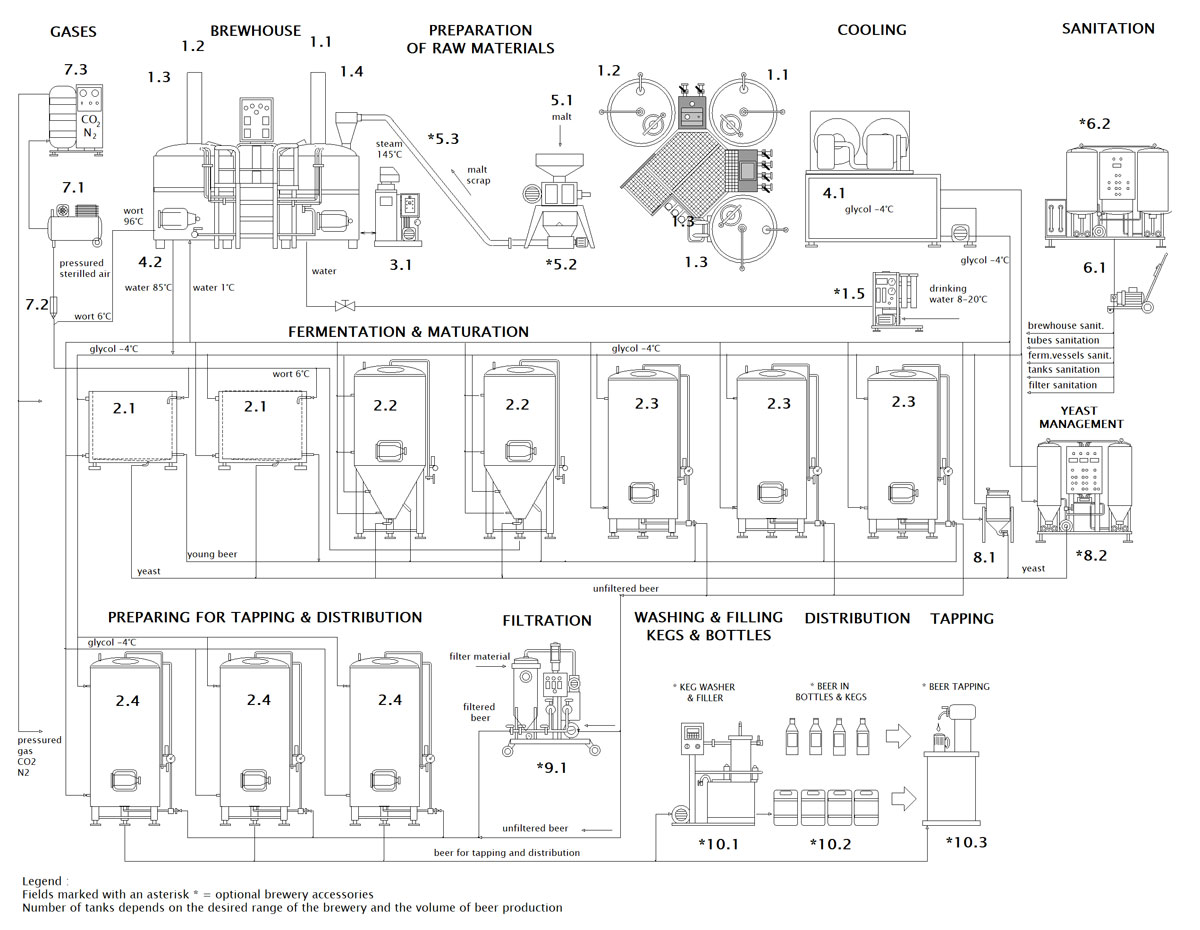 These sample sets do not include our labor (installation work and our assistance with start up of the equipment on place) and shipping costs. They will be calculated individually according to each place to delivery and installation. We offer the microbreweries also in other configurations. We can send our offer for your demand.